Yes, in 2022 it seems obvious that having a website is essential for any brand that wants to continue growing. However, it never hurts to remember -or discover- all the reasons why having a website is beneficial and even essential for companies and projects of any size.
In this post we will review three key points:
Why have a website
What is a website for?
Advantages of having a page or website
So if you want to make the decision and you have been hesitating about whether or not to create your own website, read on and take note. Do not miss it :)
Main Contents:
Why have a website for your brand?
What is a website for?
10 advantages of having a website
1. Provide online visibility
2. It is a great complement to social networks
3. It is 100% yours and always online
4. More advertising options for less $$
5. You can use SEO strategies
6. You build trust and credibility
7. You can sell online
8. You can get leads
9. You know your real and potential customers better
10. You can offer 24/7 customer support
conclusion
Why have a website for your brand?
Currently, a huge percentage of brands have their website as well as a presence on social networks. However, there are many businesses that continue to focus on offline operations (the physical store and the face-to-face exchange) and perhaps in this way, they achieve profitability and even do well.
In this post, we will not say that a business without online visibility is doomed to failure, but we will argue that having a website and social media presence generates incredible opportunities for growth and access to thousands of potential customers who would otherwise be out. of the radar.
In addition, the statistics, such as the incredible growth of e-Commerce at a global level and the increase in user confidence in online buying and selling mechanisms, only confirm that digital channels are the future and have come to stay.
did you know
70% of Internet users make purchases online
A huge number of people Google nearby businesses and 30% end up making a purchase from them
In this way, if what you want is to start a business that works 100% online, without physical offices or anything like it, this is a great time to do it. Increasingly, companies (especially service companies) opt for remote operations and close their offices.
On the other hand, if in your case you already have a physical business, adding online visibility has a lot of value to contribute. It is the equivalent of having, as well as your shop window in the face-to-face store, a digital shop window where people interested in your product or service can get to know your brand from the comfort of their screens.
More and more people are choosing to research online before making a purchase. Others, directly, make their purchase 100% online and prefer brands that offer an online store.
In addition, having your own website offers you countless other benefits: it helps you define your brand identity, better understand who your potential customers are and what they need, advertise at more affordable prices, etc. We will see this next.
What is a website for?
Having a website is extremely important to grow and sell more in the 21st century. Let's see point by point what it is for and, in short, what are the advantages it offers.
10 advantages of having a website
1. Provide online visibility
On the Internet, there is a huge flow of clients available that you could miss out on if you just rely on local clientele or word of mouth.
The web allows you to transcend local boundaries and expand your business nationally or even internationally. This visibility contains another great benefit, which is to gain market breadth.
Also, as I mentioned before, your website is your online showcase, your visible face on the Internet. When someone hears about a business, the first thing they do is search for it on the Internet. If you're not there, you've lost a potential client.
In addition, it is estimated that in 2022 the global turnover of electronic commerce will exceed 5,000 billion euros and will exceed 7,000 billion euros by 2025. There is no doubt that it is a market of opportunity in which it is better to arrive early than late.
2. It is a great complement to social networks
Creating profiles on social networks and having your own website are two good decisions that complement each other.
Social networks are great for showcasing your product or service and communicating with your customers, while the web can offer them the option to make purchases or gain more awareness of your brand.
3. It is 100% yours and always online
I already mentioned that having social networks is great, but having your website gives you some extra advantages.
While on social media your account is not 100% yours (you are subject to the rules and decisions of a company) and the network can go down for hours (we have already experienced it), in the case of a website, it is your name and you are the total owner of everything in it. You dictate the rules.
4. More advertising options for less $$
Online advertising is still much cheaper than traditional advertising. You can use it to drive more traffic to your website and make your brand more popular.
It is very effective and has a huge reach (remember that the Internet has billions of daily users).
Also, even if you don't want to pay for ads, your website already works as advertising 24/7. If someone searches for, for example, wineries in Mendoza and yours appears in the results, isn't that an excellent way to advertise yourself?
5. You can use SEO strategies
In line with the above, having a website will give you incredible results if you manage to appear in good positions in Google search results.
Fortunately, this is possible if you apply Search Engine Optimization (SEO) techniques, which help you position yourself and, in the best of cases, appear on the first page of Google.
Identify which keywords you want to appear for and learn how to do SEO on your website.
6. You build trust and credibility
A website also works as a guarantee that your brand is real, reliable, and a serious business. Many online shoppers research a brand before deciding to purchase from it.
Thus, if you place a link to your website on your social networks, if you have a formal online store and customer protection mechanisms, you are motivating them to feel safe and believe in your brand.
Along the same lines, having your web domain allows you to create professional emails with your brand name, another point in favor of seriousness. Believe me, it will make a difference, in contact with your clients, to write them from [email protected] than from a generic @gmail.
7. You can sell online
Websites are no longer what they were a few decades ago. Today you can integrate more and more features and you have many customization options.
Therefore, far from being just a space to make your brand visible, with your website you can achieve many more things. Of course, one of the best options is to create your own e-commerce or online store but, in addition to that, you can implement a large number of digital marketing techniques such as:
create a blog
Invite users to subscribe to a newsletter
Provide discounts and promotions
Generate leads and create potential customer databases
Analyze user behavior metrics
Offer 24/7 customer support
I will elaborate on some of these points below.
8. You can get leads
A lead is a user who has left their data in exchange for some benefit on your website. This allows you to turn an unknown visitor into an identified person that you can classify in a database and contact in the future.
How to get leads? Through what is known as a lead magnet. Some lead magnet options are:
newsletter subscription
Event Registration
Downloadable documents (templates, studies, ebooks, reports)
Get trial version
Etc.
Once you get the leads, you can classify them in databases according to their situation: if they just know your brand, if they have ever been customers, if they are in a trial period of your service, etc.
This allows you to contact them via email in a personalized way. It is enough to use a good email marketing platform to send segmented and sequential messages that motivate the purchase decision (promotions, discounts, launches, information of interest, etc.) and build customer loyalty.
9. You know your real and potential customers better
Perhaps in your face-to-face business you know your customers well, you talk to them and you know exactly what they need. That's great, but having your own website will allow you to multiply it x1000.
Web pages are environments where everything users do can be measured. You can know where they entered your website (whether from Google, from your social networks, or from an advertisement), which pages they visited and how long they spent on each one, where they clicked, and much more.
All this allows you to deepen your knowledge about your potential customers. You can even analyze and cross data. In the era of "Big data" there is no data to waste.
10. You can offer 24/7 customer support
Having a website gives you the opportunity to be in constant contact with your customers, who can consult you at any time or see your products and/or services at any time.
With a good communication strategy on our page, you favor feedback with customers and establish an online communication channel with each one of them.
conclusion
If you have come this far, I hope you have no doubts about why having a website is important, and what it is for.
The benefits are innumerable and the cost much lower than the cats involved in maintaining a face-to-face business.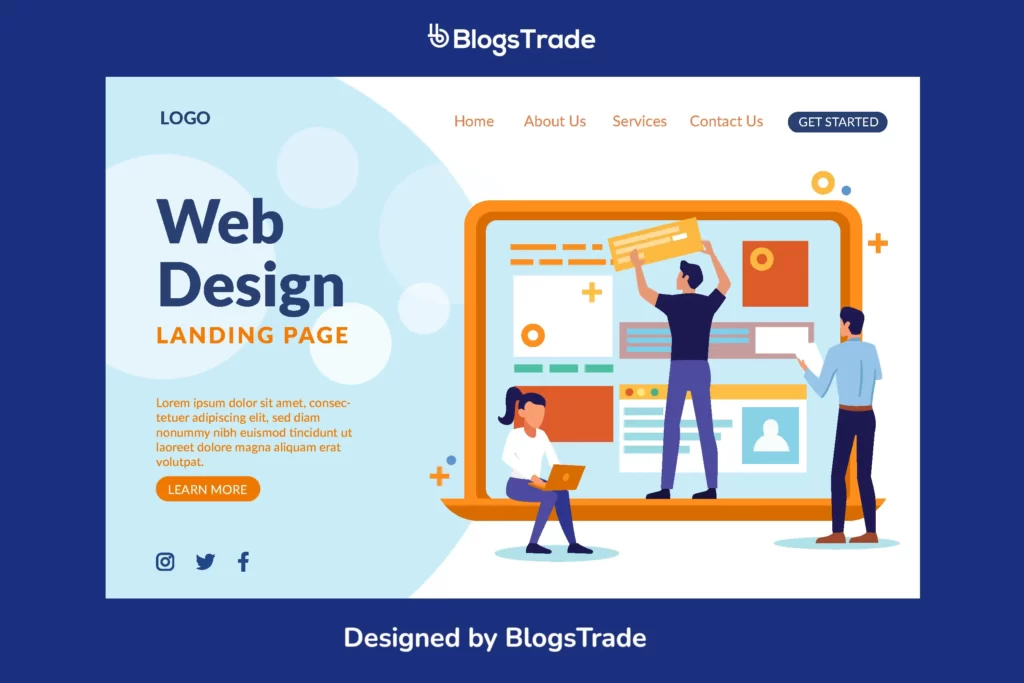 If you have decided, don't wait any longer, get your cheap and professional website today from BlogsTrade starting at $199 only. We analyze your competitors and make a better website for you on all sides such as speed, design, SEO, etc... It's super easy to have your website with us and our support team will be there for you all the time.