Have you never heard of a VPN? First, you should know that VPN is the acronym for a Virtual Private Network or a virtual private network. Basically, a VPN is a technology that allows you to connect one or more computers or other devices (tablets, smartphones, etc.) to a private network using the Internet.
What is a VPN
In other words, through the VPN we extend our local network (the one we have at home or in the office) securely over a public network such as the Internet.
Thus our computer can send and receive data over shared or public networks as if it were a private network with all the functionality, security, and management policies of a private network.
Still confused?
Let's see a little: In any home or office, there are already local networks called LAN (local area network) that allow you to connect to your Internet provider (which is a public network and not private) through the modem and the router.
In other words, a LAN is the entire ecosystem of devices that you have in your home (computer, tablet, video game console, telephone, etc.) that you connect to the Internet through a router.
Clarification: If you have a data plan on your smartphone and you use it at home, then on your phone you use its own modem that connects to its telephone antenna. Surely you already know that you can do without your mobile data and use your local network via wi-fi... and thus your data plan gives you more...
But let's get back to us.
And what does the VPN paint there? A VPN connection allows you to create a secure extension of your local network.
Using a VPN you can safely browse public Wi-Fi networks such as those found, for example, in hotels, shopping malls, and cafes, unprotected public Wi-Fi, where nothing you send or receive is free from being intercepted.
Imagine that you are traveling and need to work remotely, check some data on your company or home network, make a bank transaction, etc. Would you trust your data to the network of that nice coffee shop where you are trying to connect from? Of course not!
Furthermore, a VPN allows you to bypass censorship or regional restrictions on content and sites. Hey!!! That I am not a spy, you will think.
Well, understood, but let's be honest, don't tell me you don't get a big fuss when you just want to see a new episode of a British series, for example, and they stamp a little sign on your face that says: "This series does not it can be seen from X country" Of course, with the IP of your connection they know that you are in Colombia, for example.
But what if you connected from a VPN that would make them think you're connected from London? So what do you see in the series? If you have Netflix, your head is already working...
How does a VPN work?
To reinforce the idea of ​​how a VPN works, let's review a little about how any Internet connection works.
The data leaves your computer, point A, to point B, the receiver, in different packets of information that travel towards their destination, touching different "control points" along the way. Upon arrival at the destination, these packets are put together and can be opened by the receiver. But they can be intercepted on the way.
By using a VPN, what we do is add a layer of encryption and authentication to the route. The VPN encrypts your data before it leaves your device. Only upon arrival at the destination, this communication can be discovered and deciphered by the recipient, after identification of the same.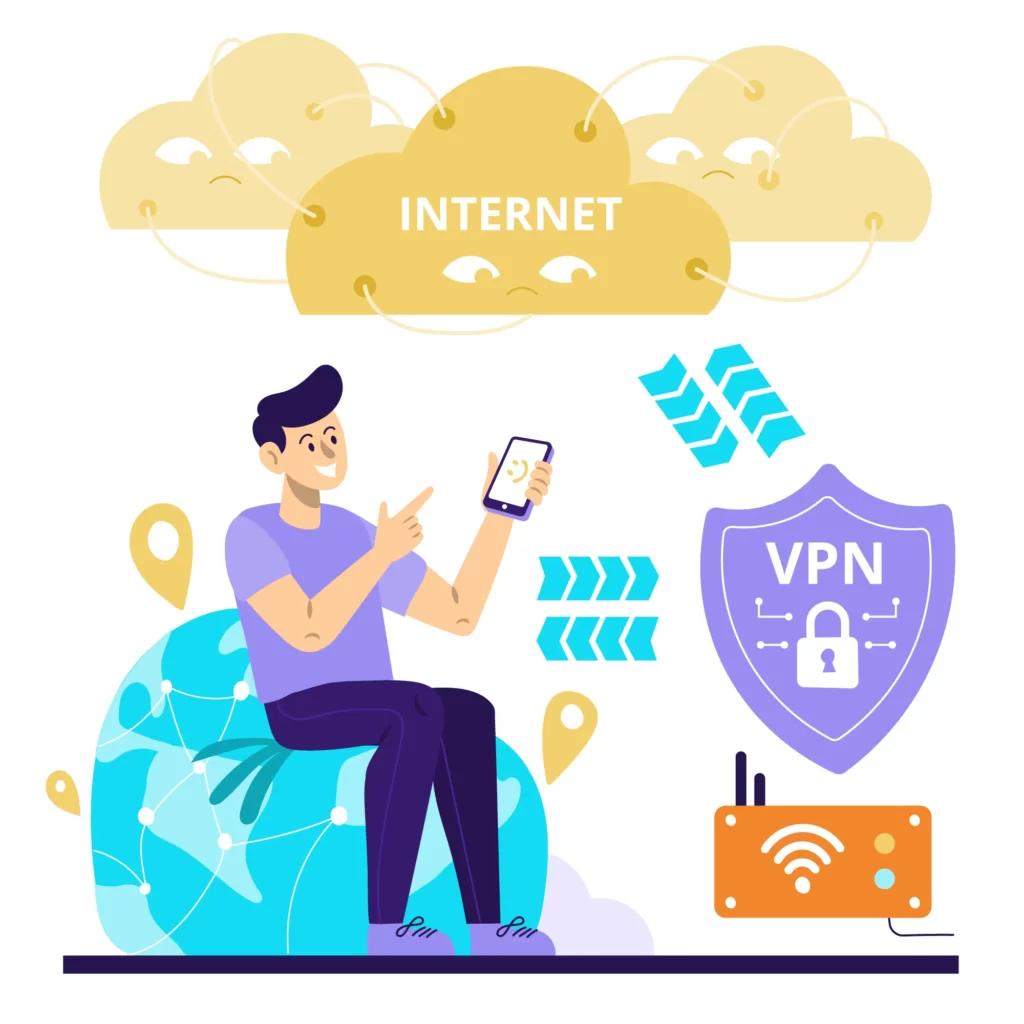 Top 3 Advantages of Using a VPN
data encryption
Companies that provide VPN services use strong encryption to protect your data from prying eyes. They generally use 256-bit encryption.
Privacy
You can use the VPN to hide your location and IP address. To do this, you just have to choose between any of the server locations that your VPN offers you. A practical example: Did you know, for example, that some airlines show you different prices for the same trip depending on your geographical location? So you can use a VPN to compare prices based on different locations.
bypass censorship
Access blocked sites or content from anywhere, bypassing censorship and geo-blocks.
With a VPN you can
Securely connect to public Wi-Fi networks
Encrypt your VoIP calls
Download files via BitTorrent or other P2P anonymously
With a VPN you will have secure remote access to your office, very useful if you telecommute.
Prevent your Internet provider from accessing your data
All is not gold: Some disadvantages of using a VPN
Although there are free VPNs, it is better to pay and have a good service, after all, we are referring to security issues.
The connection speed usually suffers a little, since we are interposing another server in the middle. And if we choose to browse a server geographically far away from ours, there will be some latency.
Security is not infallible, but it improves a lot.
It is not always possible to fake your location, especially if you connect from your mobile, as there are more and better triangulation technologies that can locate you regardless of the IP with which you connect.
But there is good news. Most paid VPNs offer a 30-day trial period, so you can try, evaluate and choose the one that suits you best.
Top Featured VPN Services in 2022
surf shark
To protect your Internet activity on all your devices (unlimited) by hiding your IP address and encrypting sensitive data you send and receive.
Connect to 65 countries in 110 locations with more than 3,200 servers. It is cross-platform. Accept credit cards, Google Pay, PayPal, and cryptocurrencies.
Cost: Excellent price/quality ratio. 2.49/month for the first 24 months. Try Surfshark VPN free for 7 days only available on Google Play Store and Apple App Store.
See: https://surfshark.com/es/pricing
ExpressVPN
Very safe, super fast (in fact it is considered the fastest). It connects 148 cities in 94 countries. It is cross-platform.
Cost: 8.32/euros per month contracted annually (that is, you pay 99.95 once) and if you contract it month by month it costs 12.95/month. Accept cards, PayPal, and bitcoin.
See: https://www.expressvpn.com/es
North VPN
This solution offers a double protection algorithm and protects up to 6 devices simultaneously. It has more than 4000 servers to choose from all over the world. it is also cross-platform.
Cost: 6.99 euros per month contract for one year, or 11.95 per month if you contract it month by month. And 9 euros/month if you contract for 6 months. And a curious thing, it also allows you to pay in bitcoins.
See: https://nordvpn.com/en/
CyberGhost
It has a very good reputation when it comes to security and transparency of the service they offer. It is cross-platform and allows unlimited data usage. You can connect up to 5 devices simultaneously.
Cost: 5 euros/month contracted annually. If you contract it month by month, the cost goes up to 12.99 euros/month. It also has a plan of 7.99 euros/month if you sign up for 6 months.
See: https://www.cyberghostvpn.com/es_ES/