If you are not on the Internet, your brand will not exist for thousands of users who are online and expect to find the product or service they need, and that you possibly offer. Therefore, if you have a physical store or offer a professional service, we recommend creating an online store.
Here we recommend the best platforms that will help you create your online store.
1.- Ecwid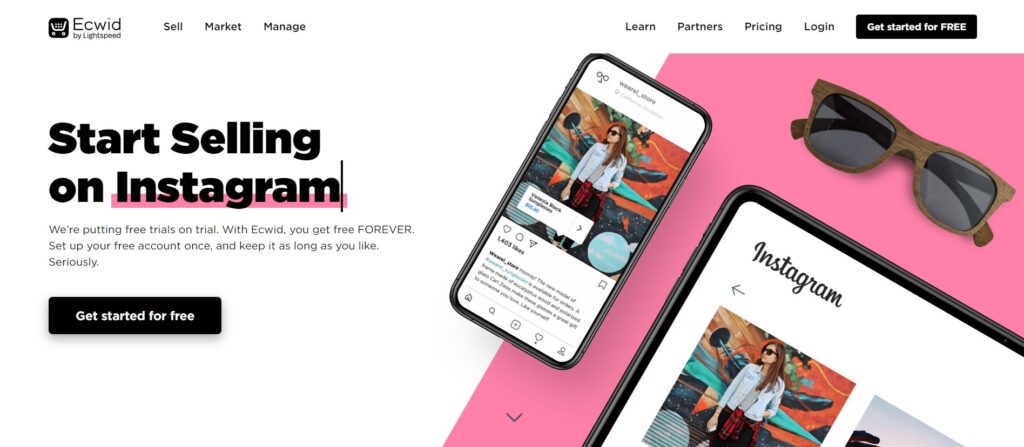 It is a good alternative for small businesses because it allows them to create, as they say in 5 minutes, a virtual store for free.
Advantage:
Allows to operate multiple online stores
Has a free plan forever
mobile optimized
Add a store on any website
Sell ​​simultaneously on multiple sites like Facebook
Accept payments directly on your website
Disadvantage:
The free plan only allows you to link 10 stores
Cost:
Free plan $0 /month without transaction fees
Project plan $15 /month without transaction fees
Project plan $35 /month without transaction fees
2.- Weebly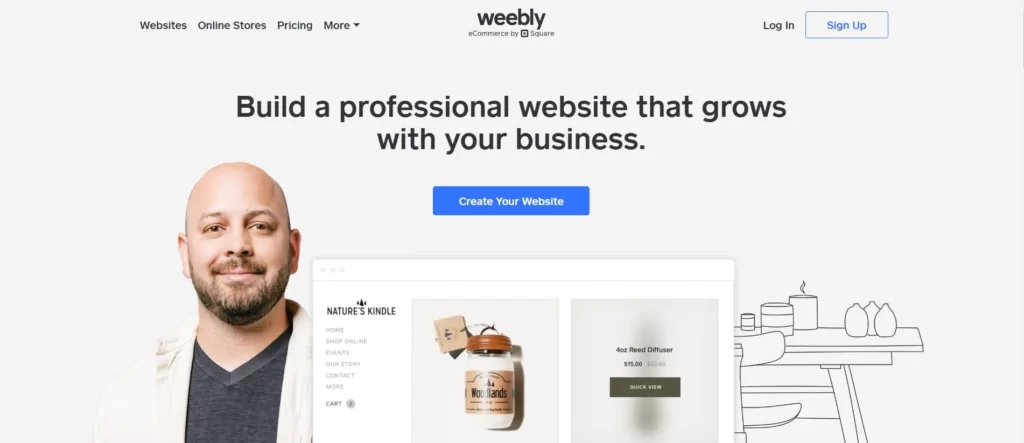 It is a platform that not only allows you to create a virtual store but also a website or blog. Modern store layouts and powerful features allow us to deliver a consistently good shopping experience that works across desktop, tablet, and mobile devices.
Advantage:
Modern eCommerce templates
Different payment options like PayPal, Authorize.net, and Plaza.
It allows you to integrate content and e-commerce
Complete Mobile Store and Order
Disadvantage:
The free plan is only ideal for beginners, students, and educators, meaning it doesn't have the best features.
Cost:
Limited Plan $0
Basic Plan $8
pro plan 12$
Business Plan $25
3.- Bigcommerce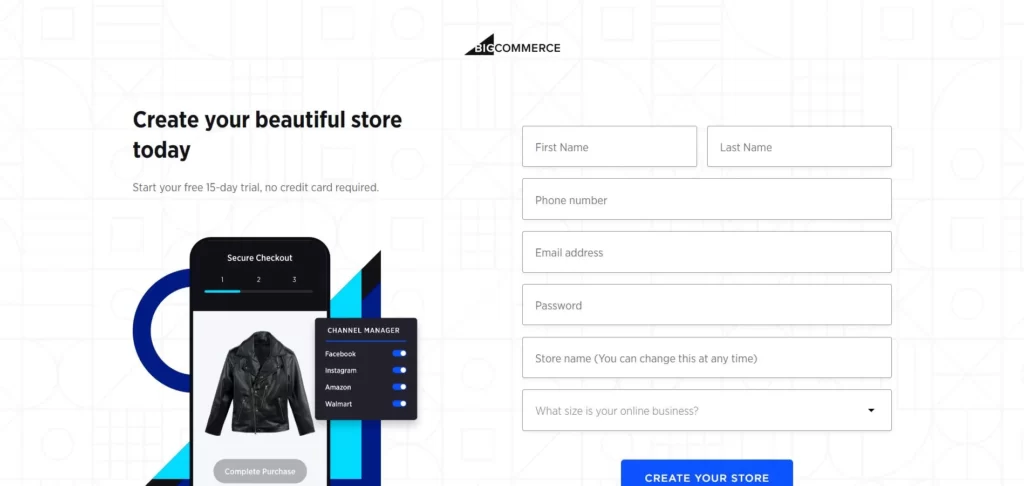 This platform focuses its services on high-volume companies, as it offers to grow your sales with more traffic, high conversion, and better performance for your virtual store.
Advantages:
You can try the service for 15 days
Customizable templates
Sites load fast for maximum conversion.
It offers more features to speed up your business.
Offers premium SEO tools
AND over 150 built-in apps
Cost:
$29.95/month + NO Transaction Fee!
24/7 support
4.- Volusion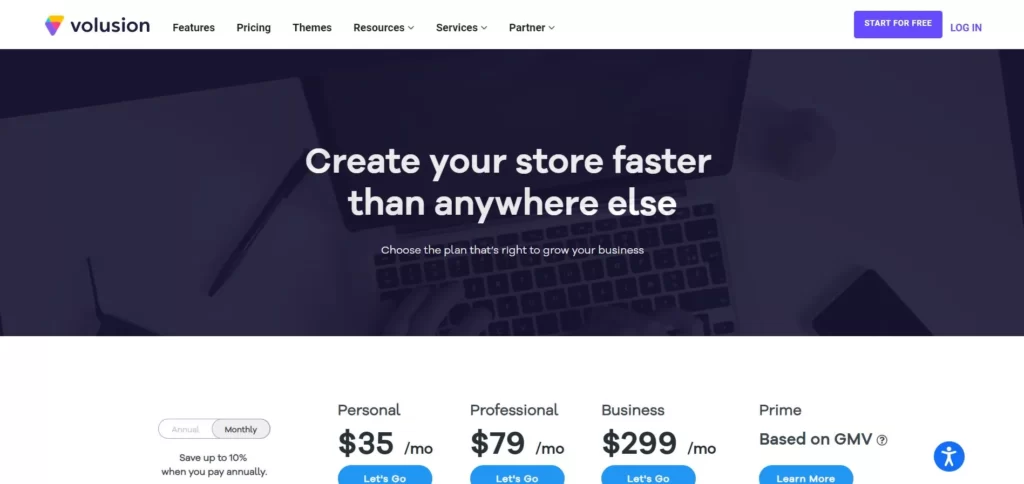 This platform, with more than 15 years of experience, offers everything incorporated for the success of your virtual store. Website, shopping cart, and Hosting are all included. In addition, this service offers PCI / CISP Secure, certified, and with a 99.9% operational guarantee.
Advantage:
All incorporated for your store
No fees, no credit card
Allows sharing on social media
Free trial for 14 days
Free and customizable template
unlimited storage
Disadvantage:
It is paid
Cost:
$15.00 / month + No Transaction Fee
5. 3DCart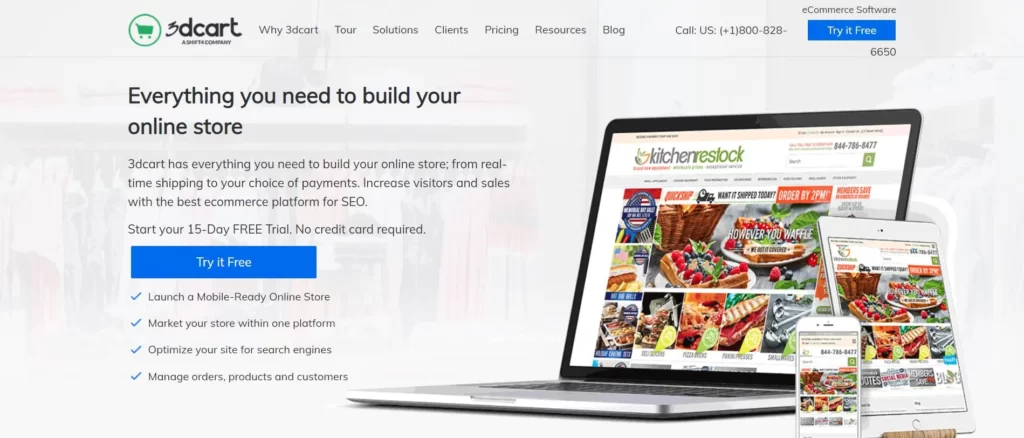 It is considered the most powerful e-commerce platform that helps you build your virtual store with a 15-day free trial.
Advantage:
No credit card is required.
Easy to use and customize.
Free software updates
No coding needed
15 days free trial
Disadvantage:
It is paid
Cost:
$19.99/month + No Transaction Fee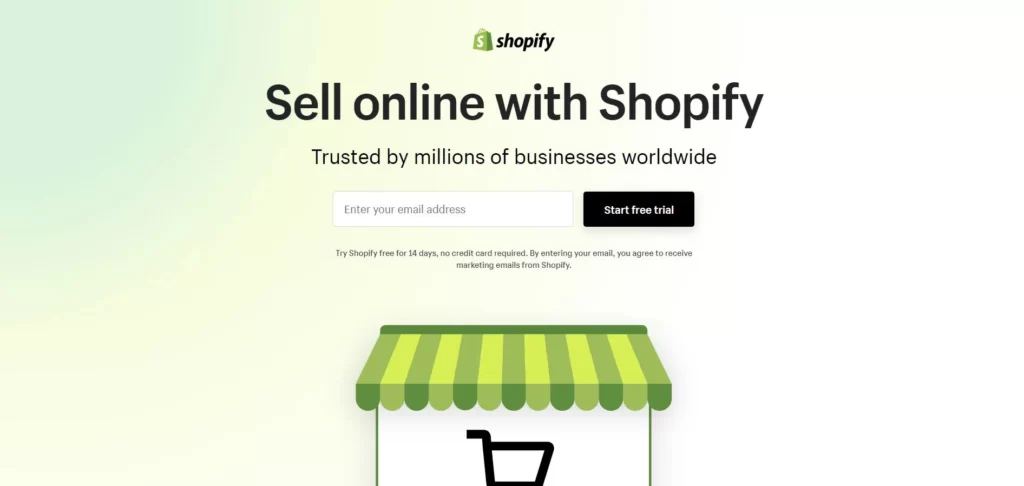 6.- Shopify
This platform, ideal to start creating your virtual store, allows you to carry out a free 14-day trial to sell your products from your website, blog, or from your mobile site since it has special templates with a professional design. It also allows you to display and sell your products on Facebook in order to connect with billions of users which will allow you to grow your business.
Advantage:
No credit card is required.
14 days free trial
It has premium SEO tools
Mobile Store and Social Store
It has more than 150 applications
Disadvantage:
It is paid
Cost:
$29.00 / month + 2% Transaction Fee
7.- Prestashop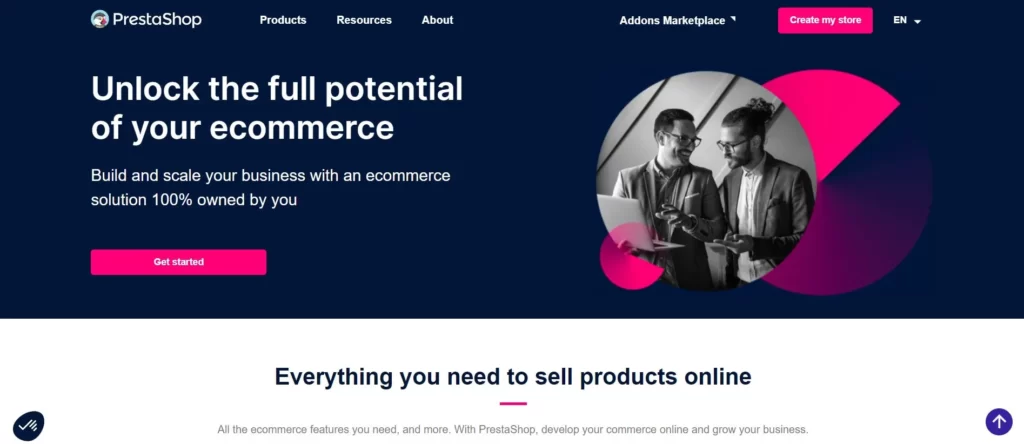 It is one of the top used platforms that suit small and medium projects.
Advantage:
The configuration panel is very easy.
Easy to install.
It has many free professional-looking templates.
Templates are suitable for any mobile device.
It allows the integration of ERPs.
Disadvantages:
It has free modules, but the best ones, and those with the best features, are paid.
Cost:
Gratuitous
8.- Opencart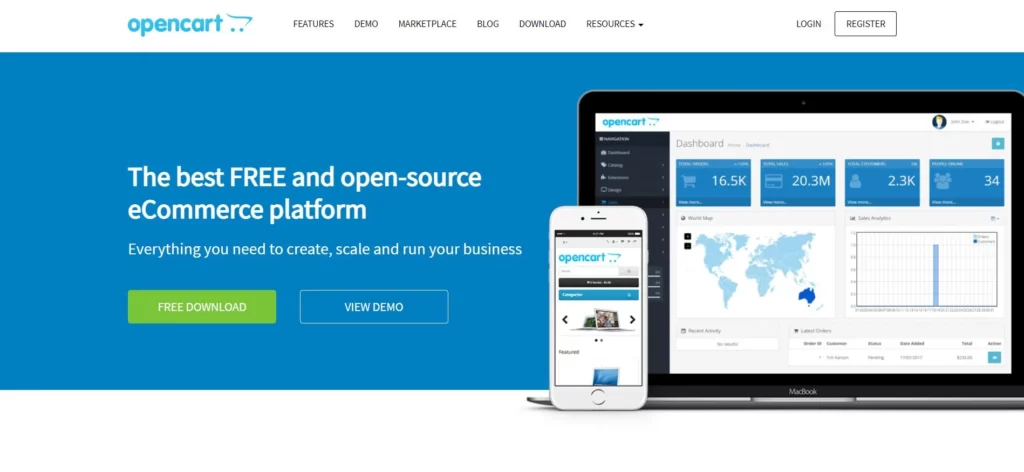 It is an eCommerce platform that is very easy to manage, you just have to install, select the template, add products and be ready to start taking orders and increasing your sales.
Advantage:
Ease of use in the back office
free
It is open source
Supports many forms of payment.
Disadvantages:
Language management by cookie.
Complex extensions to install in inexperienced hands.
The default template is not responsive
If you do not have knowledge of programming and server management, you will have to hire someone to install Opencart for you.
Cost:
Is free
9. Wix
Another platform that allows you to create a successful online store, as it has customizable product galleries and shopping carts, including ready-made online store templates.
Advantage:
You can choose a customizable template for your online store
mobile optimized
Free 14 days trial
No coding needed
product galleries
inventory tools
PayPal connection
Disadvantage:
It is paid
Cost:
$19.90 / month + No Transaction Fee
10.- Jump seller

Jumpseller is an e-commerce platform that helps entrepreneurs create their own online stores. It has a variety of features, such as the ability to design your own store, add products, manage inventory, and optimize your site.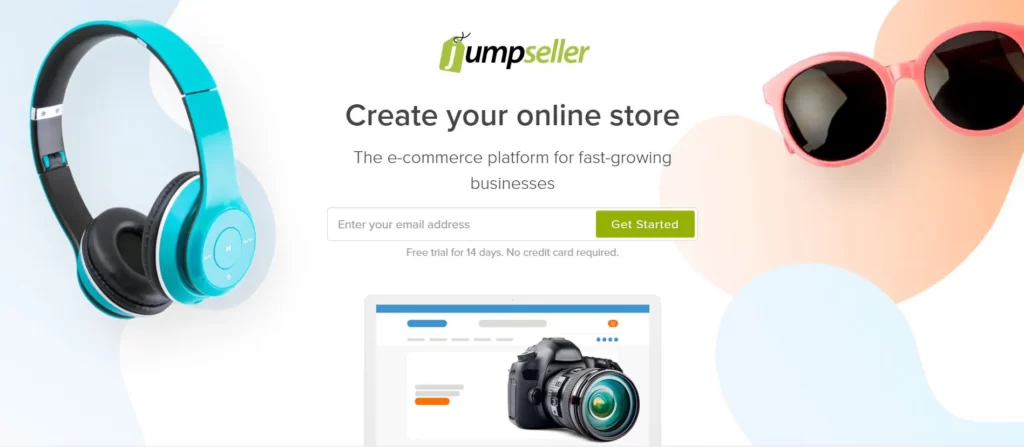 Cost:
Free on the Starter plan
11.- OS Commerce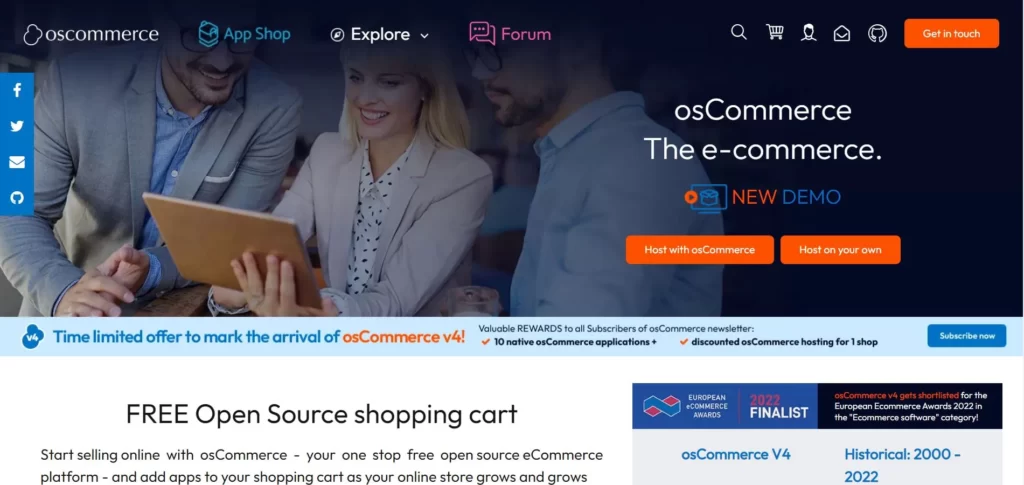 It is a platform, which appeared in March 2000, that offers tools to set up your own website and create an online store for free to help you sell products and services to customers around the world.
Advantage:
multilanguage
A large number of modules were developed so costs are lowered
Management of a multitude of payment modules
Advanced shipping management
Economical and simple developments
easy installation
Disadvantages:
The initial installation is very basic
Any small modification requires great knowledge of PHP
They are not accessible (site maps, friendly URLs, meta-tags, dynamic titles, etc…) by search engines if we do not implement a large number of modules
Cost:
Free