Today we are going to share with you 25 ways to make money online with a WordPress blog. We focus here on WP not only because it is the most popular blogging platform (almost 37% of all blogs are WordPress), but also the most simple, flexible, and professional.
Remember that there are other blogging platforms but here we seek to earn money, that is, we approach blogging as a source of income.
Before continuing, let's make an important clarification: there are two WP, WordPress.com and WordPress.org that are from the same company, the latter allows you to download the blogging platform but you have to host it on a commercial server and, therefore, pay monthly hosting, is the way in which it works and it is the platform that we are going to refer to.
Many people use the Internet as one more channel for their traditional business, that is, they already have business premises or an office and rely on a blog to have another point of sale or promotion.
But in this article, the accent will be on a blog as the main business. In other words, a blog is a business and therefore you can have an office or earn money working from home. And like any business, it requires time and money (although much less investment than a traditional business) for it to take off and bear economic fruit. Of course, a blog can help you earn extra money, but this note aims to make your blog your main source of income.
In addition, a blog requires that you constantly update yourself. Today you can occupy the first place in searches, and tomorrow, Google adjustment through, they sent you to position 20 or 50. The web is constantly changing and you have to be attentive and willing to learn new things.
Before starting to earn money with your blog you have to carry out certain previous steps that I will list below, but I will not go very deep into them because I will treat them in-depth in the next articles.
1. Decide which market niche you are going to target
2. Research which keywords you should attack
3. Buy your domain
4. Hire a hosting
5. Build the blog with WordPress and start uploading content.
Now, with everything in place, we can start creating content for the blog, getting traffic to it, and monetizing it in different ways. We cannot pretend to make money with our blog if we do not have visitors, and to have visitors we have to have contents to attract and keep them to our blog.
25 Genuine Ways to Make Money With Your Blog
You will find that the following options to make money with your blog are genuine and effective options, they are not magical formulas or schemes to get rich quickly and without doing anything; such things do not exist.
To locate ourselves more easily, we are going to present the various options grouped by type.
Monetize the content
Sell Adsense or similar advertising through advertising agencies or networks
The best-known and easiest way to implement advertising services is to use Google Adsense.
Adsense is an advertising program created by Google that basically works under the CPC (cost per click) modality and that allows web publishers or bloggers previously approved by Google to place ads on their websites through a code that generates advertising related to the content of the site.
By clicking on an ad, the advertiser gets a potential customer to show interest in their product and service, Google charges the advertiser for that click and shares the profit with the blogger. The blogger receives 68% of the recognized income (because invalid clicks are not paid and from now on I inform you that clicking on the ads themselves is prohibited and causes the closure of the account).
It should be noted that not all clicks cost the same, or, indirectly, you will earn according to the amount of traffic you have, how likely your audience is to click on advertising, and, above all, the market niche in which you work. Markets where there is little competition pay little, where there is a lot of competition, they pay more because advertisers "dispute" your advertising space. Hence the importance of choosing the market niche and prior research of keywords.
Another important point that influences the potential earnings is the placement of the ad in the content and the purchase intention of the visitor.
Placing the ad for maximum performance is an art that requires some basic knowledge and testing to see what works best.
To give you an idea of the potential of Adsense in this video, Bruno Ramos shares his strategy to earn 2,000 euros/month with Adsense.
Regarding the visitor's intention, a visitor can search for information (for example when looking for reviews of a product, brand comparisons, etc.), find out before buying, or can search to buy when, for example, looking for a specific brand and model, asking for the price, etc; This is known as purchase intention and naturally the advertiser pays more if the intention is to buy than if the intention is to find out.
To speed up acceptance in Adsense, it is convenient to first have some daily traffic and at least between 15 and 20 original and quality published articles. Currently, they take a long time to approve you.
You may be wondering How to implement Adsense on my blog? Well, there are 2 basic ways:
Copy and paste the code they give you in each location (in the HTML) where you want the ad to be displayed.
Integrate it through a plugin. For example, at MdE we use Adsense B30, a free contribution from Dean Romero and Jaime Sempere that you can download from here, and that allows you to configure up to 10 different positions.
The first option is very inflexible, the ads will always be displayed in the same position on all articles. While the second option is very flexible, because in addition to including the first option if you wish you can remove ads in the posts you choose and even manually put the ads in some posts. Adsense is very flexible, lightweight, and easy to implement, plus it's free. what else do you want?
You can combine Adsense with other advertising networks.
Earn money with YouTube
YouTube seems to be a content distribution channel that seems to satisfy all kinds of audiences, particularly if you produce "how-to" type guides because the visual helps us clear up doubts that would be cumbersome to explain only in writing.
To make money with YouTube you have to have a large audience and a lot of relevant content. Once you have your video channel you can monetize it through advertising from Adsense, they are those ads that appear at the beginning or at the end of a video.
To start, you have to have an Adsense account (the same one you use to put ads on your blog), have more than 10,000 views, and perform the following steps:
In your account (top right) select "Creator studio" or "Creation studio"
Then in the menu that will appear on your left select «Channel» and «Status and Functions»
Activate the monetization option
Accept YouTube's terms
Link Adsense and YouTube
Choose which videos you want to monetize through your Video Manager (inside Creator Studio)
If your channel is well known, it will attract brands that want to appear in your videos.
Generate income with Podcast
Depending on your theme, you can generate part of your content in PodCast (audio) format, from there the most common thing is to get an advertiser or you can also offer it to your audience as a paid service for a small monthly fee.
Sell advertising directly
Whether you have a person who is dedicated to selling advertising for your blog, or your blog is very well known and advertisers contact you directly, you can negotiate the price of your spaces with each advertiser. In this way, you do not pay Google's commission, but you have to take care of getting the client, selling them, invoicing them, and collecting them.
There are intermediate ways and they are related to installing a plugin such as BuySellAds, which is actually a marketplace that links advertisers with publishers.
Sell promoted posts
The sponsors are well known in the world of sports and TV shows. To attract a sponsor, your blog has to be well known, have authority, and be a reference for a certain audience.
You must install Google Analytics or any other analytics package that allows you to offer your potential sponsor verifiable data about your audience: age, gender, geographic location, income levels, type of education achieved, etc, etc.
It is convenient to have an updated media kit ready.
If you find it difficult to contact the possible advertiser directly, you should know that there are online platforms that take care of it, such as the case of Publisuites, Coobis, or SocialPubli. And you can use these platforms to get clients or pay to promote yourself and shorten the time it takes to get noticed.
Write paid reviews
When you have certain fame and your blog is recognized, you may be asked to do product reviews and like all work, there must be a payment involved (even if it is an exchange). This system is widely used in fashion, makeup, photography, and technology blogs.
Something that is important to make clear is that you do not guarantee a positive review, but you are going to publish your opinion without pressure, otherwise your credibility will suffer.
Send promoted emails
This depends on your audience and the relationship you have built. It can be very profitable to occasionally send a paid email from an advertiser who wants to contact your list. Remember the saying, "The money is on the list."
Never deliver the list, that would be breaking the privacy commitment.
Earn money with Instagram
Instagram is no longer a channel for sharing your travel photos or selfies, it is now another channel for posting tutorials, workout routines videos, etc.
Depending on your product and if you have a large number of followers, you can get financial compensation from brands if you advertise their products. Fashion and makeup influencers make a lot of money this way.
With a paid membership, your audience pays a subscription to receive more information. It can be in-depth studies, exclusive conferences, courses, in short, premium content.
This method has the advantage of income stability because the payment is a monthly subscription and in return, it forces you to continuously produce premium content.
There are plugins that allow you to set up the private access to a part of your blog; These plugins are MemberPress, Restrict Content Pro, LearnDash (course specific), etc. Extras are paid.
Create a paid membership
With a paid membership, your audience pays a subscription to receive more information. It can be in-depth studies, exclusive conferences, courses, in short, premium content.
This method has the advantage of income stability because the payment is a monthly subscription and in return, it forces you to continuously produce premium content.
There are plugins that allow you to set up the private access to a part of your blog; These plugins are MemberPress, Restrict Content Pro, LearnDash (course specific), etc., which are paid plugins.
Sell digital products
Ebooks, reports, case studies, etc. Whether they are your own or from third parties that you can market through the affiliate system.
Digital products have the advantage that once the first one is produced, there are no production costs for additional copies as would be the case with printed material on paper. Distribution costs are non-existent and you are left with collection costs.
Once it is up and running you can go to sleep in peace, if the sales funnel is properly configured, the system will continue to sell without supervision.
If you are going to dedicate yourself to the sale of both physical and digital products and you are going to do it by charging directly from your blog, then you must have an SSL certificate installed (to encrypt the payment data), in the event that you refer your clients to another blog or site, they are the ones who will have to deal with security issues.
ebooks
If you like to write, you have here a good vein to explore and exploit. You can sell your ebooks directly from your blog or from Amazon or similar. From your blog, your profitability per sale is higher, but from Amazon, you reach a much larger audience. Try both and decide what is best for you.
Of course, you can also explore the sale of third-party ebooks as an Amazon affiliate and you can combine it with the first option: you offer your own ebooks and also a selection of the best ebooks available for that audience.
courses
You can start by selling your ebook to test the audience and then sell your course, as courses are generally perceived as a premium product compared to ebooks. We have already talked about how to set up a paid section within your own blog to host your course.
It takes a lot of time and dedication to put together a course, but if it's valuable, priced right, and you've put together an effective marketing campaign for the right audience, the course usually runs smoothly.
An online course has enormous advantages over a face-to-face one, there is the question of geographical scope, and freedom of schedule (people enter when they want), but once it is put into operation it requires little attention on your part.
Seminars
Online seminars require much more technological preparation than a course, because being alive, for example, the transmission can drop and you will need to have at least one person to help you answer questions from the participating public.
To organize a live seminar, also called a webinar, you have the following software: Google hangouts (simple and free), and the following paid GoToWebminar, Webinar Jam, Webinars OnAir, and Zoom.
Sell physical products
As in the previous case, they can be your products or those of third parties via an affiliate program. In the case of selling products, you should install a store with a plugin like WooCommerce or set up a store on Shopify.
You can also set up an Amazon affiliate store. You can do this with a plugin that brings you products from Amazon or with WooCommerce.
create directories
Directories are a good alternative when you have a developed community that is loyal to your blog. Let's look at some possibilities.
Create a business directory
Niche market directories are very helpful. Of course, the theme has to be related to your audience, and it can be of interest to both suppliers of your audience or if it is entrepreneurs, it can be clients exposing their products and/or services to the rest of the community for a minimum fee.
The directories must be maintained because sometimes people do not update their data or put a wrong link and customers complain to you. On the other hand, when someone leaves the directory, they must be removed from the Google index so that they do not give false information.
It has the advantage that it can become a stable income by charging a monthly fee for participating.
Create a bulletin board for job offers
Of course, this does not work for all blogs, but it works very well in some. There are several plugins available to build the bulletin board. WooCommerce itself offers an add-on to build paid listings. Another alternative is the WP Job Manager plugin.
Sell services online
It has its advantages and disadvantages. The services do not require all the prior preparation required, for example, to put together a course or write a book, but on the other hand, they have the drawback that each service requires your time because ultimately selling a service is selling specialized time.
To give a more professional image, you can create order forms for your service through WPForms, which in addition to creating the form allows you to charge through PayPal and integrates with Aweber and Mailchimp to take subscriptions.
Offer consulting
We already know that offering your services and providing consulting is not the same. Consulting has a lot to do with offering your advice and procedures but it frees you up a lot of time because instead of doing the work yourself, you advise the client on, for example, questions of strategy so that your clients execute them themselves but take advantage of your expertise.
For example, an SEO consultancy analyzes the problems of a blog and offers the client an analysis of it and the things that must be done to improve the positioning and work that the client's team must execute.
In other words, to provide consulting services you must really be an expert in your activity.
Here you can also create order forms for your service through WPForms.
Offer coaching
We also know that coaching and consulting are not the same. A coach helps a client to determine realistic professional and personal goals and how to improve performance.
If you decide to provide coaching, you will have to take turns for which you can help yourself with a specific plugin that, if possible, should also allow you to charge. For example, BirchPress, Booking Calendar, Appointment Calendar, etc.
These systems allow you to coordinate with various calendar systems, such as Google Calendar, iCal, Android, etc.
Offer freelance services
Are you a designer, programmer, or editor? do you dedicate yourself to marketing, etc? These are all activities that you can offer your audience and that allow you to work from your home office. In addition to offering your work freelance on your blog, you can advertise on one of the freelance platforms.
Design and sell templates (theme) for wp
Here you can design WordPress templates and even offer to customize them for a particular client or sell templates developed by others through the affiliate system such as Thesis, StudioPress (with its famous Genesis system), or Themeforest, all premium professional templates for WordPress.
Design and sell plugins
Plugins are a constantly developing market as they cater to the increasingly specific needs of the WordPress market. Of course, this is an opportunity for those who are interested in technology and also have programming skills.
Design and sell app
Similar to the previous one, apps are a constantly developing market. If you have a good idea, you can start with a free distribution app and then develop a paid premium version. It is ideal to have versions for the IOS and Android operating systems.
Sell graphics and/or photos on your blog
This depends a lot on your market niche, but if you work in the graphic design sector, you may be able to market graphics and photographs through the affiliate program of one of the most important image banks.
Develop blogs for third parties
This is another business leg that you can explore in two different ways: developing the website design yourself from scratch, customizing some of the best templates available (whether free or paid), and finally offering third-party templates through the affiliate.
Offer SEO services
Positioning services, installation of utilities, the configuration of security features, online marketing, etc., are all services related to blog marketing that you can offer.
Community Manager
Whether you have taken a course or have personally been in charge of dealing with your audience, the truth is that you can offer your experience as a community manager to third parties. It is very common for small companies that do not have experience in social networks to outsource community management services.
This is an alternative that you can consider to take advantage of all your expertise with social networks and that you can develop in parallel with your blog and from your own workplace.
Conclusions
It is possible to live from a blog. You can use the method that you think best suits your audience or better yet, you can combine several ways to monetize (that's why it's better to put your eggs in different baskets).
For example, you can have income from advertising (both from Adsense and direct advertisers), charge a commission with affiliate products that are useful to your audience, sell ebooks (yours or third parties), give courses and seminars, provide consulting, etc., etc.
On the other hand, each alternative has queues, and bypass methods to monetize your blog.
How much money you can earn with your blog depends on your imagination, here we have shown you 25 proven ways to earn money with your wp blog.
But remember, it is practically impossible to make money with a newly started blog, it needs maturation, audience, positioning, quality content, and quantity of them.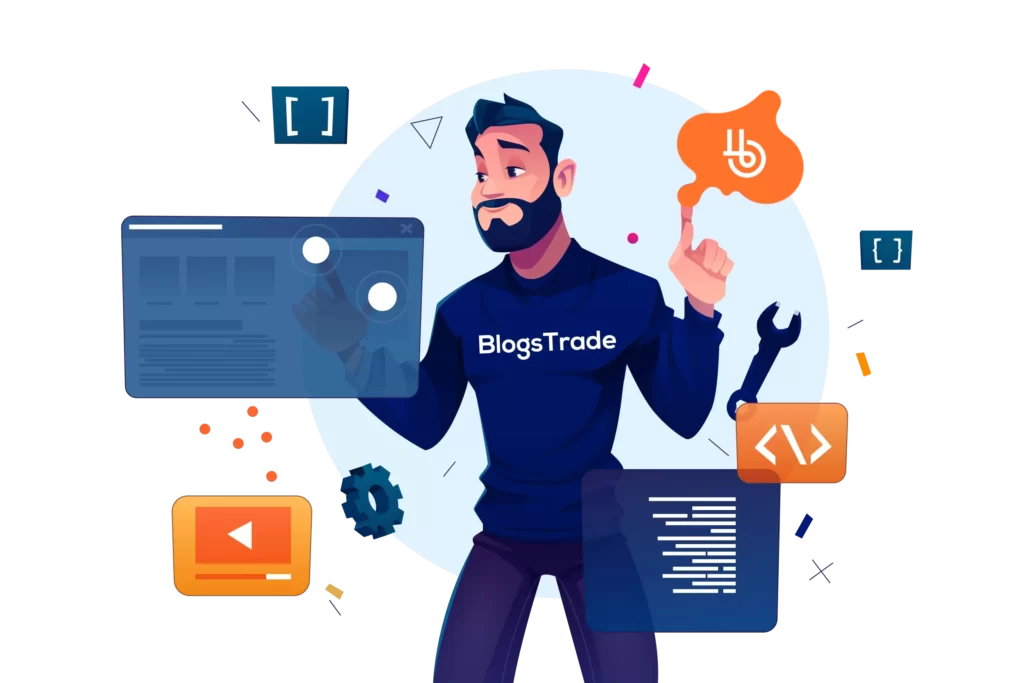 At  BlogsTrade we are experts in creating great blogging websites that are SEO-friendly. Thus, if you are planning to get started with your own blogging website, do not hesitate to contact us.